| | |
| --- | --- |
| | Champ wins Stu Sells Cookstown Classic |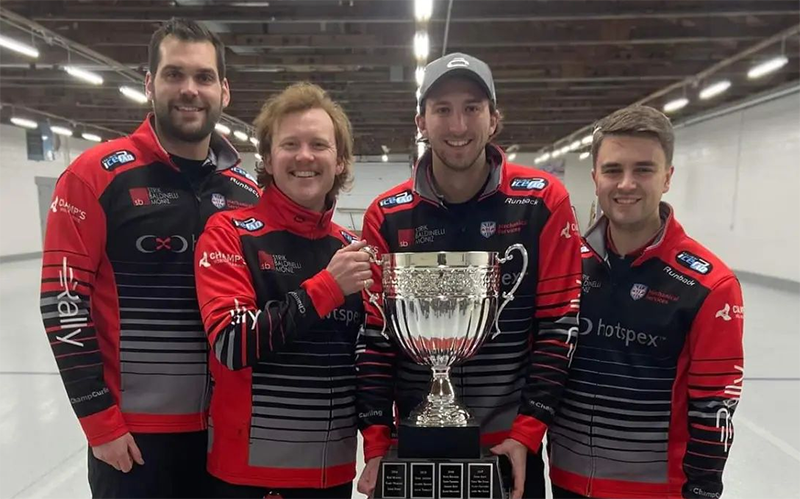 Alex Champ (Kitchener-Waterloo, ON) wins the Stu Sells Cookstown Classic, defeating Pat Ferris (Grimsby, ON) 5-1 on Sunday.

After Ferris blanked the first 2 ends, Champ stole 2 in the third end put the first points on the board, then added another single-point steal in the fourth end, and stole 2 more in the fifth end. Ferris scored a single in the sixth end, but conceded the 5-1 win to Champ.

The win in Cookstown marks back-to-back titles for Champ and his team of third Charlie Richard, second Terry Arnold and lead Scott Clinton, having come of winning last weekend Stu Sells Port Elgin Superspiel, though this event didn't start off so well. Champ dropped their opening two games, then strung together six straight sudden-death wins to go onto the title.

In the semifinals, Champ defeated Whitby's Landon Rooney 4-2 while Ferris defeated Woodstock's Mark Kean 6-4. In the quarterfinals, Champ defeated Ottawa's Jordan McNamara 9-3, and Kean won 7-3 over Brandon Tippin of Bala.

Champ finished 3-2 in the 12-team triple knockout qualifying round, held at the Cookstown Curling Club in Cookstown, Ontario. In their opening game, Champ lost 5-4 to McNamara, then 7-3 to Carter Bryant (Guelph, ON) to drop the team into the C-side bracket. Champ responded with a 7-3 win over Scott Ray (Cookstown, ON), then won 7-2 against Bryant to advance to the C-Qualifier game where they 6-3 against Mike Foster (Cookstown, ON) to advance to the playoff round.